Chiang Mai, the city with the most temples in Thailand
Chiang Mai is located in the north of Thailand, 700km from Bangkok. It is the second largest city in Thailand after Bangkok, the city with the most temples in the whole of the country, and certainly one of the most charming cities in Asia.
Founded in 1296, the old town has preserved part of the old wall and is full of temples, all different and all with their own particular charm. Here I leave you with a guide to Chiang Mai, a list of the best places to visit and a few tips on what to do in this special place:
How do you get from Bangkok to Chiang Mai?
Trip from Bangkok to Chiang Mai by train
The first time I went to Chiang Mai I went by train from Bangkok's Hua Lampong train station. We took a night train and like good backpackers we bought the cheapest ticket we could find. But we were going to regret it. We spent 15 hours in a car without windows, with the lights on, and because it was raining, the car was full of mosquitoes.
With that heat, you had two options: either you covered yourself completely with the blanket and began to sweat like a chicken, or you didn't cover yourself and the mosquitoes ate you alive. Unfortunately, before we arrived in Chiang Mai, we had to leave the train and change to a bus because the floods did not allow us to reach Chiang Mai by train.
Finally, we arrived in Chiang Mai after 15 hours by train and 2 hours by bus. It was one of the most stressful and overwhelming journeys of my life. If you still want to travel by train, I recommend you to pay a bit more and find a sleeper train with private cabins for about 1200 Baht (35 euros). You can buy the tickets at the official website of the Thai Railways.
Bus trip from Bangkok to Chiang Mai
On my second visit to Chiang Mai, when I was working in Thailand teaching English, I went by bus. From Bangkok to Chiang Mai the buses leave from Bangkok's northern station, Mo Chit:
You can go on your own by metro or bus to Mo Chit station and buy your ticket on the same day you want to leave.

Otherwise, you can buy the ticket for one of the many agencies on Khao San Road and get a ride to the station. However, be careful and compare a few agencies; because some of them scam a lot and can cost you 2 or 3 times more than if you go directly to the bus station on your own.

The third option is to book your ticket online. You can buy tickets from 12go.asia.
From Mo Chit station many buses leave daily to Chiang Mai. There are different types depending on the comfort you are looking for. I advise you to travel on a VIP night bus, as it is a 10-14 hour journey and they are very comfortable buses. Also, you will save a day's hotel.
What to see and what to do in Chiang Mai?
1. The temples of Chiang Mai
On the first day, what everyone usually does is visiting the old town and get lost in its temples and alleys. It is more than advisable to rent a bicycle. In Chiang Mai there are about 300 temples in total, so it's impossible to see them all. In my case, I especially enjoyed seeing the two biggest ones: Wat Phra Sing and, my favorite; Wat Chedi Luang. Although, I won't deceive you; the best thing is when you find a small, empty temple, you start chatting with the monks and stay there for a while.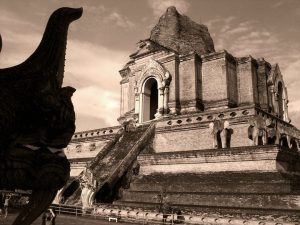 2. Rent a motorcycle and go see the Doi Suthep temple
Another thing that is almost a must in Chiang Mai is to rent a motorcycle and go visit the city's most famous temple: Wat Phrathat Doi Suthep. It is located at the top of a hill and is characterized by its golden stupa. It is always full of tourists, but it is still worth going to see it.

On the way, you can stop at some waterfalls and, if you keep going up the mountain, there are a lot of villages surrounded by beautiful mountains and beautiful landscapes were not so many tourists usually arrive.
3. Trekking through the mountains
On the third day you can do a trekking in the mountains. On one of my trips with friends, we took a two day and one night tour. The tour combined: trekking, elephant ride, sleeping in a mountain village and rafting.
The trekking was quite entertaining, but we were very disappointed with the elephant ride. We were very sorry and we immediately regretted having contributed our grain of sand to such a grotesque show.
The best thing, without a doubt, was being in a lost village and spending the night in the cabin with an indigenous family observing their way of life. At night, a movie storm fell and I remember thinking that even the cabin we were in could be washed away. Going to the bathroom and finding a one-handed spider was also something to remember for sure. Unfortunately, the next day the rafting had to be cancelled because of the strong descent of the river. Without a plan b, we returned to Chiang Mai a little disappointed with the tour in general.
4. Bathing in the Gran Canyon
If you still have time and a desire for more; one of the attractions that surprised me the most and that many tourists don't usually see is The Grand Canyon of Chiang Mai. It's about 20 minutes by bike from downtown Chiang Mai and the entrance fee varies depending on what attractions you plan to use.
The cheapest is 100 Baht (3 euros). It is a good place for both children and adults. You can swim, jump off the top of the quarry if you like adrenaline, play with inflatables, use the zip line and even wakeboard.
5. Sunday Market Street
If you're lucky enough to stay on a Sunday you can stroll through Chiang Mai's huge street market. The Sunday Market, as the name suggests, opens every Sunday on the main street of the city and is filled with small stalls selling all kinds of decorations, clothing and food. It is the perfect place to buy souvenirs and enjoy the street life of Thailand.
6. Party in Chiang Mai
You can find a lot of nightlife, partying and a great atmosphere in Chinag Mai. The most frequented bar by tourists and Thais is the Zoe In Yellow Bar and the Spicy nightclub, where everyone goes when Zoe In Yellow Bar closes. These two places are the most popular, but there are also many other bars where you can have a quiet beer.
But don't be surprised if groups of Thai girls start shouting at you to go to the bar where they are. They usually work in the bars and earn part of their salary by convincing you to invite them for a drink or with other services. Truth be told, even if you are not looking for anything, you can have a beer with them and have a few laughs; they are usually very nice and very crazy.
Trip from Chiang Mai to Sukhothai
We took a nice memory of Chiang Mai, the second largest city in Thailand, the city with more temples and, surely, one of the most charming cities in the country. After 4 good days we left Chiang Mai. It was time to visit the old Thai capital: Sukhothai.
Comment, evaluate and/or share if the post has been useful to you. Any help is welcome. Subscribe if you want to receive travel updates. If you are planning a trip to Thailand, you may also be interested in our list of Travel Tips for Thailand.
NO TE VAYAS SIN ANTES VALORAR EL POST: