Entering Laos via the northern land border of Vietnam
From Dien Bien Phu to Muang Khua
We decided to cross the Vietnam-Laos border through the border town of Dian Bien Phu (Vietnam) to Muang Khua (Laos). From Sapa, it is the border to Laos that you have the most at hand and therefore the most suitable if you want to cross by land. If you want to across the border from Vietnam to Laos, in Sapa you will find many agencies that will organize your trip to the border.
In our case, we leave Sapa early in the morning by bus and arrive in the evening at Dien Bien Phu. In Dien Bien Phu we did nothing but go for a drink with other foreigners who were going to Laos. We immediately went to sleep early as the same bus that had brought us was leaving at five in the morning for the border with Laos.
Crossing the border by land from Vietnam to Laos, if you are Spanish, costs you 35 dollars, plus two dollars that they ask you for a commission. Sergio and me, the day before, made the stupidest mistake we've ever made on the whole trip. We took out the money just to cross the border so we wouldn't lose the change later.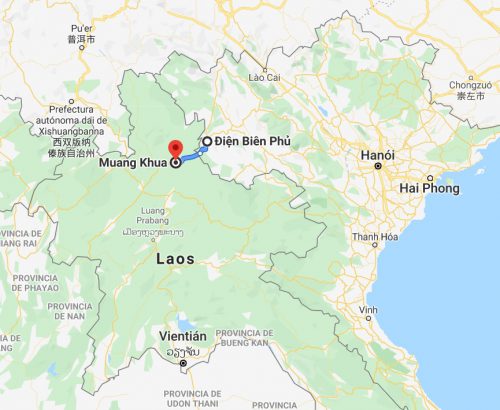 Vietnam-Laos border:
A whole day without money in Laos
To our surprise, when we arrived, the border town of Laos, Muang Khua, was not even a town at all. It was a village on the riverbank with wooden houses. And, of course, without a single ATM. We only found a place to exchange currency that served us to change a few Bahts that we had saved from Thailand as a souvenir.
It was 12:00 noon. We were almost out of money and there was no bus to another city until the next day. With the little we had, we paid for the cheapest room we could find and the only one we saw in the village. At least we wouldn't sleep in the street. We spent the remaining 24 hours on a couple of bananas and some tangerines that my travel partner bought just to get there and before we knew we wouldn't find a single ATM.
The next day, we crossed paths at the small hotel with the same foreigners we had met crossing the border. They were having breakfast. They asked us why we weren't having breakfast and we told them our problem quite embarrassed. A French guy, when he saw that the money was not enough to buy the two tickets, lent us 50 thousand Kips (5 euros). With that, we were able to pay what we needed. Eternally grateful we went to the nearest city with an ATM, Oudomxay, 3 hours away by bus.
Vietnam-Laos border:
From Muang Khua to Luang Namtha
When we got to Oudomxay, we ran to find an ATM. The first ATM we tried didn't work and we were stunned. Next to it we found another one and tried it again. This one finally allowed us to withdraw cash. After jumping of joy and buying some food and drink, we took a bus straight to Luang Namtha in the northern Laos.
If no one had helped us I don't know what we would have done. I guess we would have ended up hitchhiking and it would have been another adventure to tell. Anyway, we learned from our mistakes and by crossing the Vietnam-Laos border, we learned to carry a little more money with us always in case and especially at the border crossings.
Subscribe to the blog to follow our updates. Comment, rate and/or share if you liked the post. And finally, if you are thinking about going to Laos, you may also be interested in our Tips and Curiosities about Laos and our guide about the Best temples of Luang Prabang.