In the Lombok earthquake, 557 people died, 2,000 were reported injured, and more than 20,000 people were estimated to be affected.
On August 5, 2018 a 6.9 Mw earthquake occurred in Lombok that caused havoc in Indonesia and for 45 minutes there was a warning of a possible tsunami. 557 people died, 2,000 were reported injured, and more than 20,000 people were estimated to be affected. Just at that time, I was on vacation in Indonesia with two friends and we had to experience it first hand. Here I tell my experience during the earthquake in Lombok:
Only a week had passed since this earthquake, but we thought these things happen once in a while. So if it had just happened, it shouldn't happen again so soon. We were very wrong.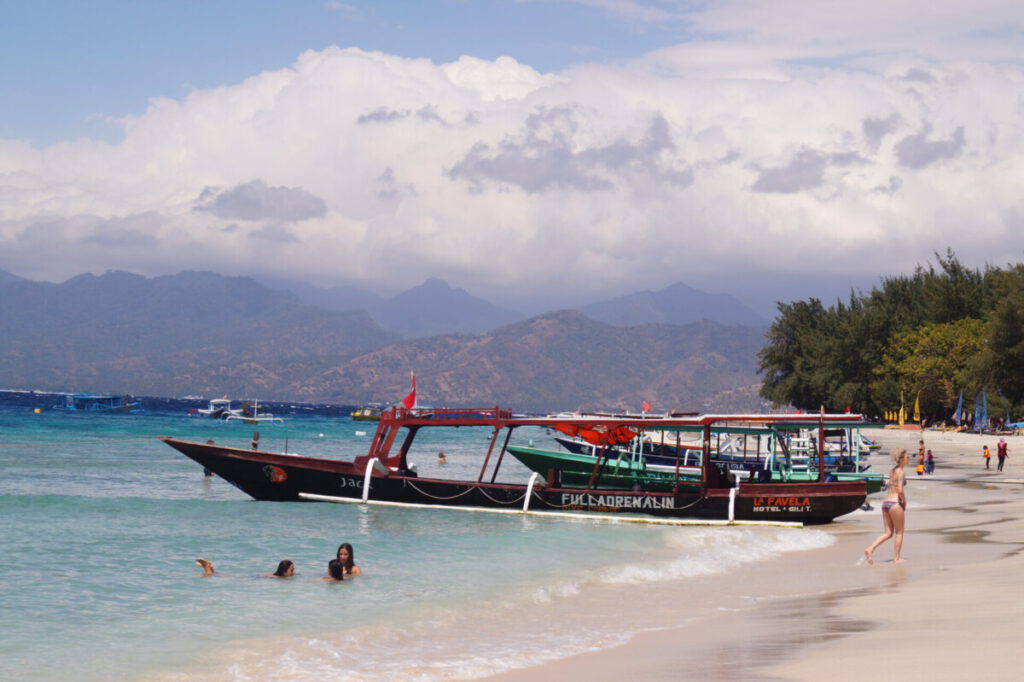 First day in Gili Trawangan
On August 4, 2018 we arrived with our backpacks to Gili Trawangan eager to discover this island of white sand, crystal clear water and ideal for snorkeling and diving lovers. For those who do not know, the island Gili Trawangan, along with Gili Air and Gili Meno are part of a group of islands located north of Lombok (Indonesia). These three islands, that are one next to the other, are next to Bali and Nusa Penida, the most famous islands of Indonesia.
I was traveling with two friends and after visiting the Secret Gilis of Lombok, we went up north of Lombok to Bangsal Port. From there, we took a small boat full of foreigners towards Gili Trawangan. We arrived in the afternoon and quickly found a Guesthouse where we stayed. The Guesthouse was full of small bungalows made of bamboo, a swimming pool and good atmosphere. We would sleep in a shared room with 3 beds for 15 euros a night and spend 3-4 days.
After dinner we went out for a drink in the beach area where all the bars are. I was impressed by the amount of foreigners on that small island. Something compared to Koh Phi Phi. Good atmosphere and a lot of people who want to party.
The second day: The earthquake
Next day, we went to discover the beaches of Gili Trawangan. The beach next to the tourist center is full of boats with people coming and going from the island and boats going and coming from tourist routes around the island. For the walk next to the beach pass carriages that take foreigners to their hotels and restaurants, hotels and travel agencies are piled up separated only by small unpaved streets.
In front of the beach, you can see Gili Meno and further away, Mount Rinjani, an active volcano located on the island of Lombok. Mount Rinjani has an altitude of 3726 meters, making it the second highest volcano in Indonesia.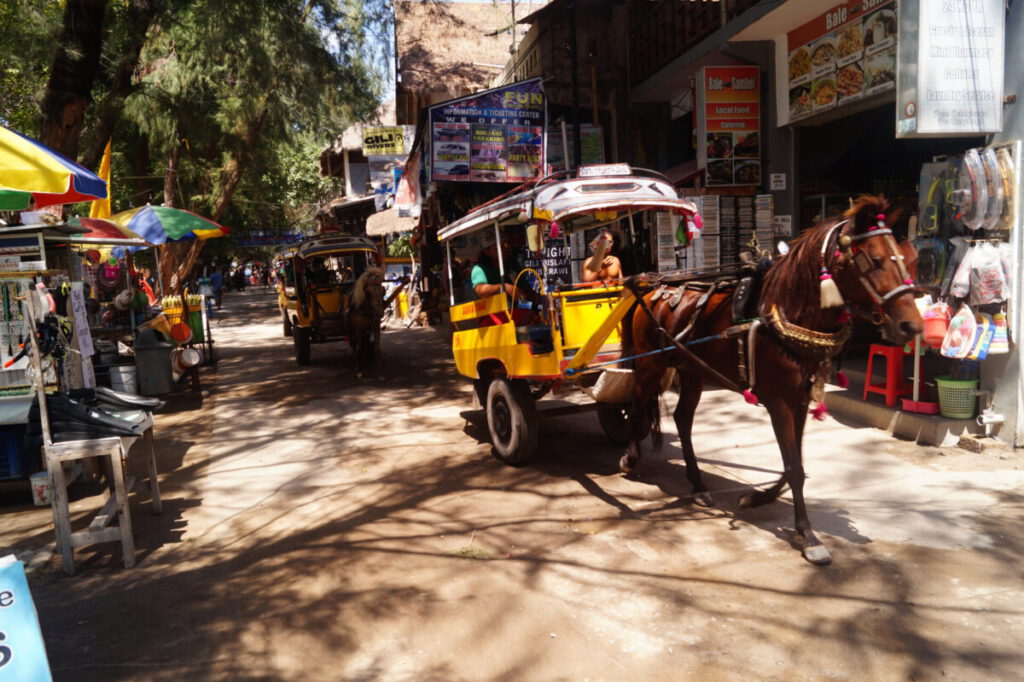 The Lombok earthquake of August 2018 of 6.9
In the afternoon, we move away from the center towards the north, away from the area of the bars, as it is quieter and the beaches are emptier. There were 5 of us, 3 of us and two other Spanish guys we had met. After a quiet afternoon on the beach, playing cards, around 19:30 we decided to go back to have some dinner on the main street.
The earthquake occurred at 19:46. We were walking along the promenade by the beach, without any concern, when suddenly the earth began to shake. It wasn't one of those little tremors that you see the lamp moving and you realize that something is happening. The earth was moving like plasticine. Everything went dark and we could only stagger from side to side trying not to fall to the ground. Our own instinct made us move away from the wall and the trees and we managed to get to the beach in a hurry.
The shock after the earthquake
When the earth became stable again, none of us understood what had just happened. We were in shock. In Kunming I had felt earthquakes before, but never anything like that. Even with the shock in our bodies, we made sure all five of us were okay. Luckily, there had been no mishap.
We had no idea what to do in such a situation. We were still in shock when we saw a local who was right next to us with the flashlight of his cell phone focused on the waves of the sea. If the sea had been calm for a while, now it looked very rough. He told us to look at the sea, and that if the water was going backwards it was the clearest warning of an approaching tsunami so it was time to run.
Running, where? It was all flat and at most there was a two-storey hotel that was a bit of a mess to get into in case the foundations fell apart. He told us that just behind where the center of the city is there was a small hill 20-30 meters high. It wasn't much, but it could be enough if a tsunami came.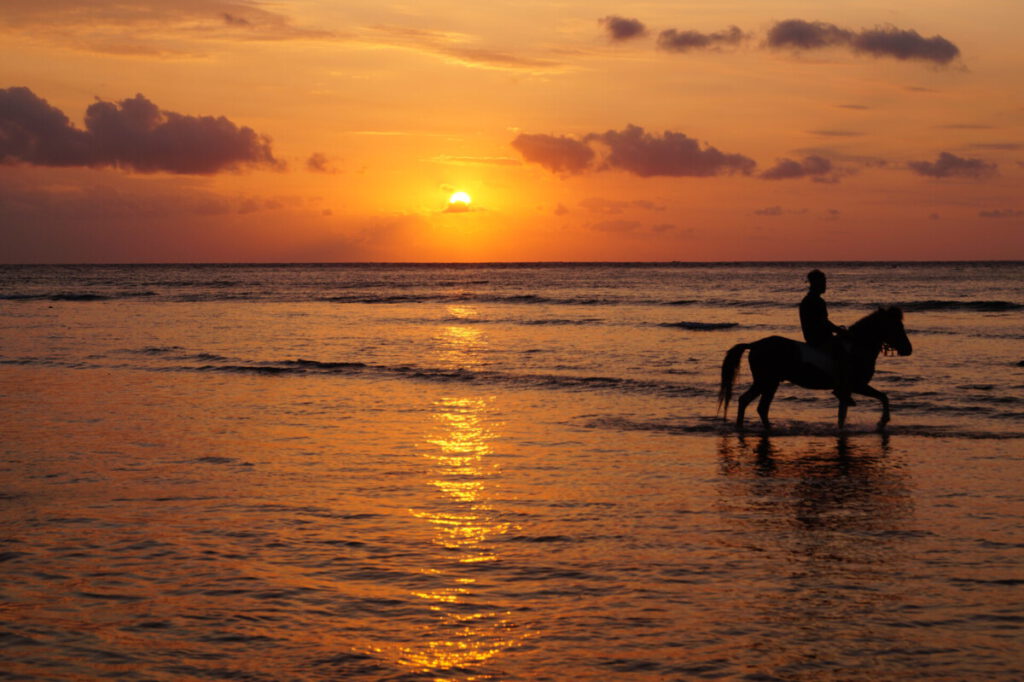 The second scare: possible tsunami warning
Just at that moment, suddenly, we saw a lot of people running along the promenade towards the south, to the tourist center of the island. At that moment we feared the worst. My heart suddenly jumped. In a single second I imagined a giant wave coming in that direction and dragging us all towards the ocean.
We ran back to the street of the promenade to see what was happening. A Spanish girl stopped and told us that the Indonesian government had reported a 6.9 earthquake north of Lombok and there was a warning of a possible tsunami so they were heading for the only hill there.
We tried to stay calm and not get separated while the crowd ran past us. The problem, apart from the possible tsunami, was that to get to the hill you had to cross all the streets with walls and buildings that with any other tremor could collapse. We knew that the sea had never gone backwards and, although we were not totally sure that this was enough, it did reassure us a little. So in a matter of seconds, we decided to head for the mountain, but instead of between the buildings, go along the beach looking at the sea.
In that short moment we lost the other two Spaniards we had met. We assumed that they would have left like most of the buildings. We continued with our plan and returned to the beach.
With the scare in the body: an eternal walk
As we walked at a good pace and nervously we began to see that we were not the only ones walking on the beach. A few of us got together with the same plan. At that moment, the second replica arrived, which was 5.5. The ground moved strongly again, but not as much as the first time. We couldn't help but wonder if those who were going through the streets would be okay.
Along the way, people joined in and the group grew larger. Some of us crossed paths with others who were injured. Above all, I remember seeing how they treated a person lying on a stretcher with his leg open as if a wall had fallen on him and another one who was having trouble breathing. I also remember groups of Indonesian women, praying aloud in a trembling voice as they held their young children who were crying non-stop.
I can't say how long we walked on the beach, maybe 15-30 minutes, maybe less, I don't know, but it took forever. We finally reached the parallel street that went directly to the entrance of the hill.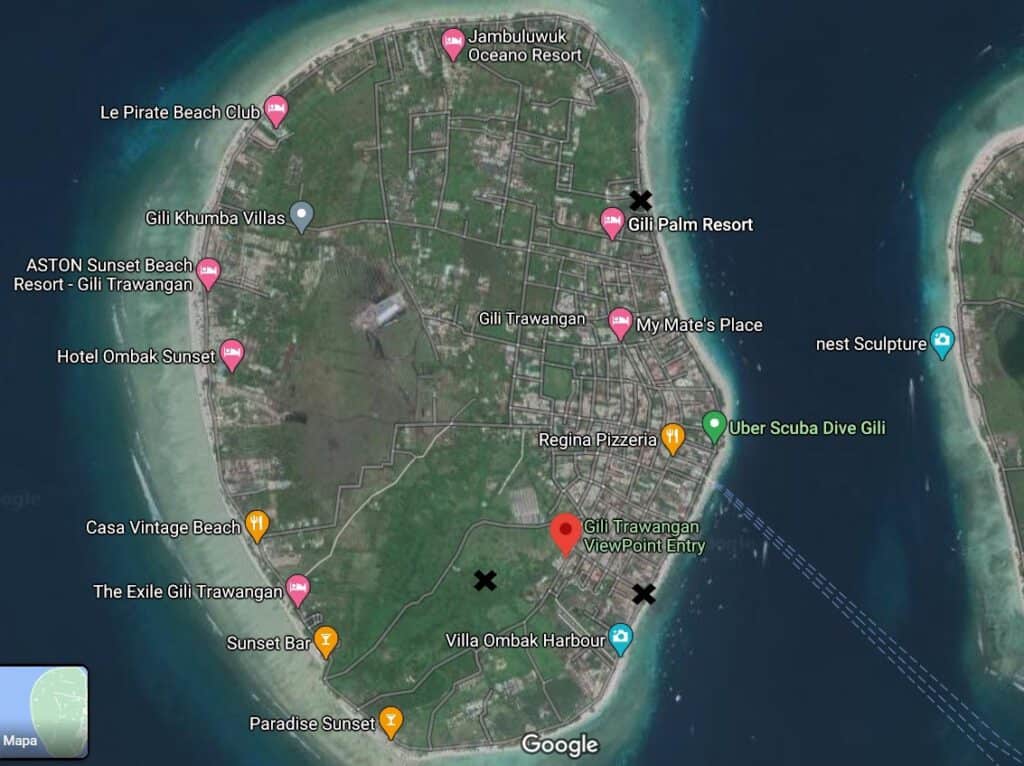 The dilemma: sleeping on the beach or crossing the building blocks to the hill
We look at the map. There were 500 m between buildings until we reached the entrance of the hill and then, possibly, a path surrounded by trees to the top. We were not sure what to do. If the tsunami hadn't already arrived, it would be strange if it arrived now. Another aftershock, however, could knock down some wall already damaged by the other two previous shocks and we risked having it fall on us.
At that moment we noticed that there was a local girl who was informing people about something by showing her cell phone. We asked her what was going on and she informed us that the tsunami warning had been cancelled. Between this good news and the fact that we were not very happy to go through so many damaged buildings, we decided to stay on the beach and sleep.
We started to take sofas, puffs, blankets and cushions and we were in different groups, always looking at the sea. Talking to people we found out that usually the first earthquake is the strongest one and then come smaller replicas that progressively decrease.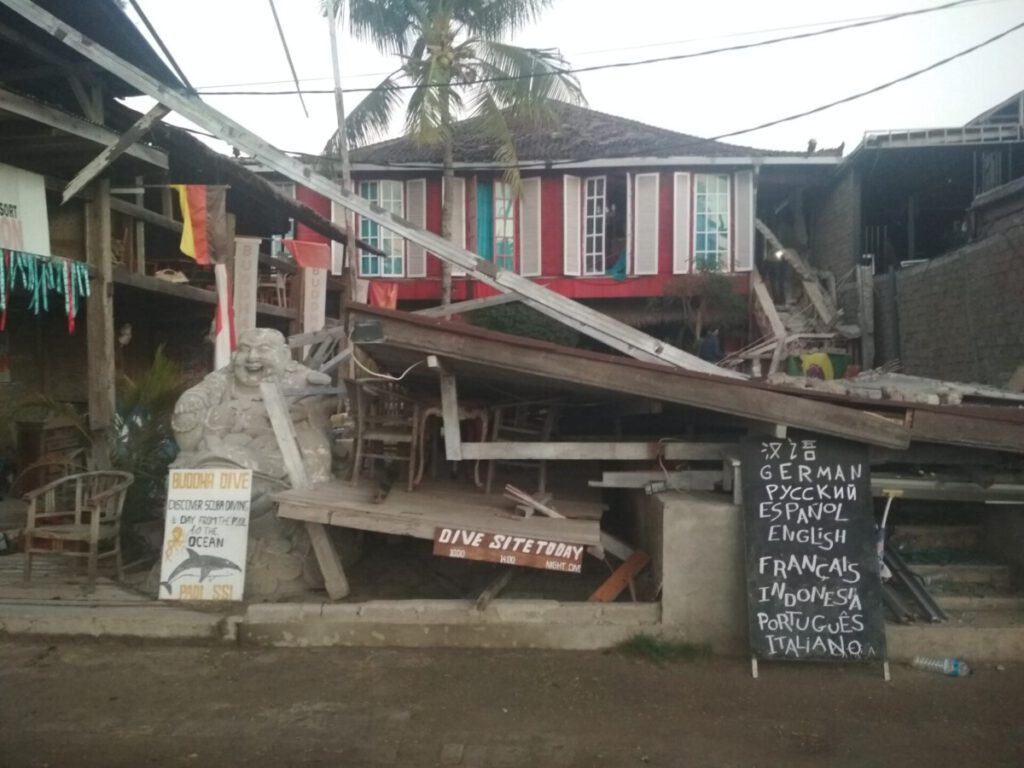 The longest night of my life
After a while, resting and having felt some aftershocks, we decided to take a walk along the line of restaurants in front of the coast to see how the houses had looked. There were buildings that had completely collapsed and a few that were barely standing.
On the terrace of one of the restaurants we found 3 Indonesians feasting on what the guests had left. They invited us to eat with them and we accepted without thinking about it, since we hadn't eaten anything since noon. To our surprise, we went from being worried about a tsunami to enjoying a seafood meal in a matter of seconds.
Once with a full belly, we returned to where we were and tried to sleep. I couldn't keep an eye on it all night because of the small aftershocks every half hour that put me on alert. Instead, I remember hearing one of my friends snoring. In the end there is nothing like knowing how to accept what comes.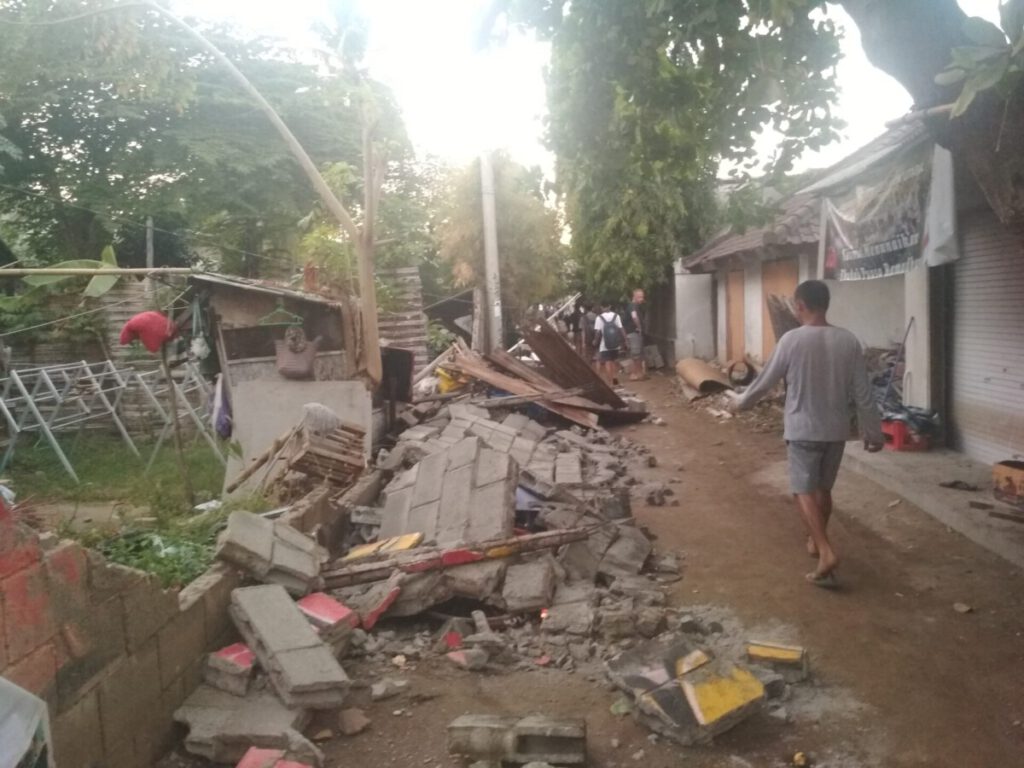 Leaving the island, a whole odyssey
Finally, the long-awaited sunrise arrived and everyone began to get up to go to their hotel, grab their backpacks and try to get off the island as best they could. I was very surprised to arrive at our Guesthouse and see that it was totally intact. The bamboo bungalows had held up perfectly. The bosses of the Guesthouse didn't let us pay anything for our stay so we said goodbye to them thanking them for their cordiality and wishing them all the best. Once with our backpacks on our backs, we returned to the beach, passing through crumbling walls and fallen buildings.
When they arrived, hundreds of people began to pile up in the sand. The first to leave were the locals. We spent two hours just watching as small boats full of people left, returned empty and filled again in a minute. We tried a couple of times to get on one of these boats, but it was clear to us that, except for a few lucky ones, they only accepted friends and family.
After a while, what looked like a police boat arrived. It docked right at the end of a walkway where a lot of people were gathering and there was a line of about 300 meters. The boat immediately filled up and left the way it came.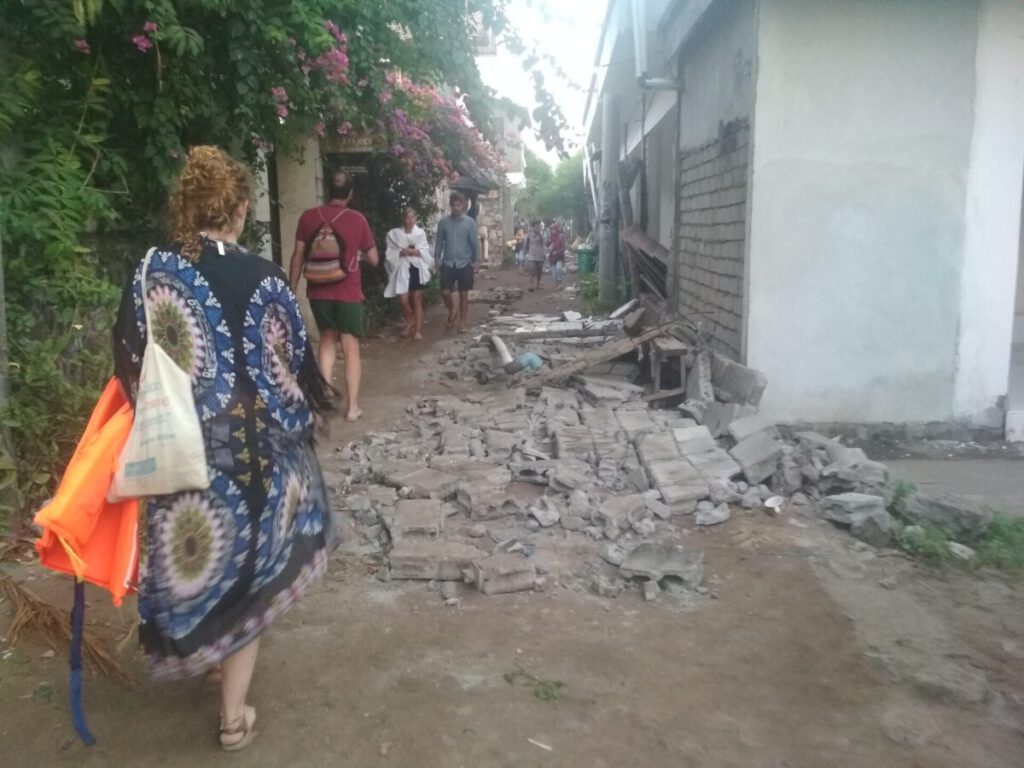 Now or Never
At the moment, closer to where we were, a much larger boat arrived and stranded directly on the sand. We approached it to try to get on and the madness began. They pulled out a ladder, people started climbing and those same people who were climbing and the crew of the boat started to help others climb up the sides of the boat, which were at a height of 2 meters. It was every man for himself. Those who couldn't get up fell into the water with their backpacks. On this first attempt, it was impossible for us to reach the front of the boat. It filled up and left.
The second time, we stayed at the seashore near where the last boat had run aground. It was overflowing with people and while we waited there were a few aftershocks that put you on edge. After a while, another boat arrived that was just as big as the last one. We would try again, although we didn't have them all with us.
On this boat they tried to organize themselves a little better. They said that only women and children would enter. They started to climb the stairs and the sides helped by the ship's crew. Every once in a while a man would sneak in and help others climb. We stood right on one side and asked them to help our friend up. They took my friend's arm and with our help from below she managed to climb up. Just as they were about to help us up, one of the crew came and told them off and sent them backwards: only women and children.
A little bit of help and luck
My friend started to tell him that we were her brother and her boyfriend and to please let us on but the crewman ignored her. We didn't want to separate for anything in the world and kept insisting. A few more women went up. Unexpectedly, an Indonesian boy who was right next to us on the beach started yelling at a crew member pointing at our friend who was upstairs and us who were down. I don't know what he must have told him, but he convinced him to help me up. With goose bumps and excitement I thanked the guy for giving us a lift.
It was not easy to climb with the backpack on your back. Between the crewman, my friend from above and my other friend pushing me from below I managed to climb up. We just went up to help our other friend. He was bigger and taller than me so it cost us his. Once the three of us on the boat hugged each other and were not told to go back. From the boat, I returned to thank the boy who had helped us, the boat began to move and I saw him get smaller and smaller.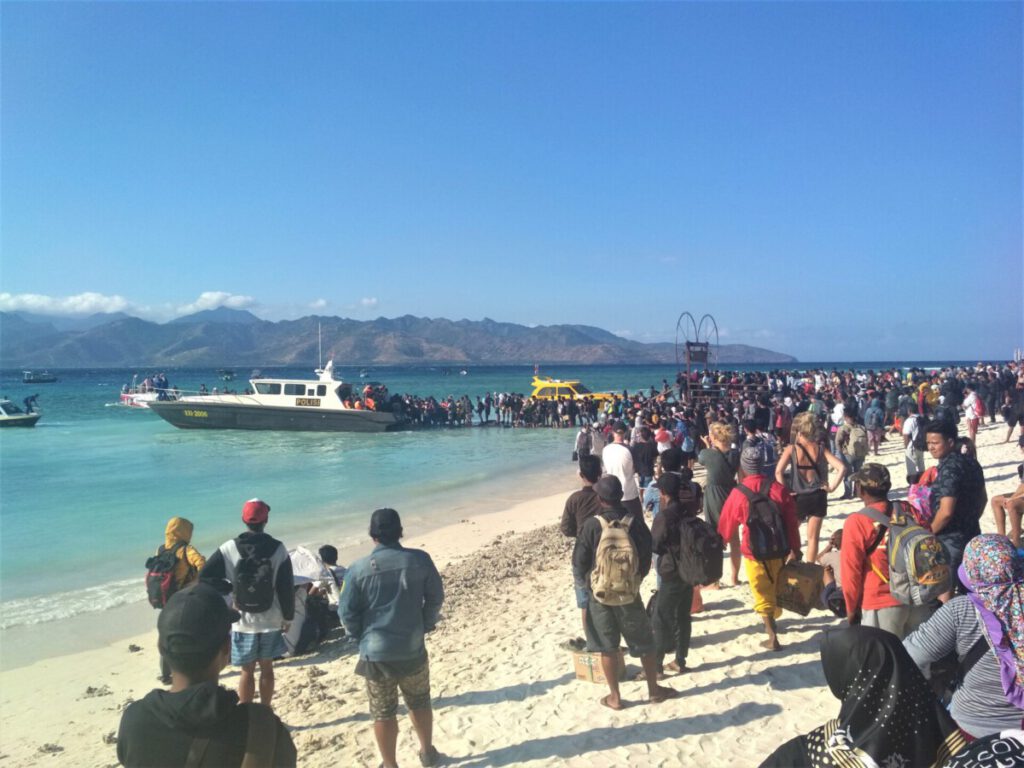 Arrival in Lombok: the lowest scam
When we arrived in Lombok, as we moved away from the port we realized that this was not yet over; in fact, we had only just gotten closer to the epicenter of the earthquake. There were buildings fallen on top of cars, the floor of the streets was open and apart from those of us who arrived there was nobody left there. There was absolutely no one from the Indonesian government, no public buses or anything.
We went to the bus station next to the port. To our surprise, it was empty, but there were a few cab drivers. To leave the island to Bali you could go by plane from the Lombok International Airport, located in the center of Lombok or by ferry through the port of Lembar to the south of Lombok. Asking prices, we were told that to either destination cost 100 euros per person. 100 euros! Normally it wouldn't cost you even 20 euros for the whole trip. It was armed robbery. They were taking advantage of a natural disaster and the misfortunes of others to make a profit.
Bus from the harbour to the ferry
A group of foreigners agreed to pay the 100 euros each. The man called his friend and a van came and put 10 people inside. A few foreigners and us, got together and agreed not to pay more than 20 euros each. After a few refusals, he finally agreed to take us, but we had to pay first. With no other option, the 8 people started paying reluctantly.
After a while of waiting, instead of a van coming as we had not imagined, a bus came. Only people who had agreements with this mafia of cab drivers who were around the parking lot were allowed on the bus. The man pointed out the bus to us, we went to the door, talked to the driver, and they let us in. The bus was immediately full. Then he gave part of the money to the driver, he kept another part and went to look for the next group of foreigners. A shame. The lowest scam of the century.
Ferry trip from Lombok to Bali
We decided to go to the ferry because we had read that Lombok airport was collapsed, that plane prices were also sky-high and that there were few planes. We arrived at the port of Lembar after an hour and a half by bus. Once there, we were queuing for just over an hour. Finally, we were able to buy the ticket that cost us only 40,000 IDR (3 euros) to Bali and board the ferry.
A trip of 5 hours towards Bali was waiting for us so we took advantage of it to relax a little after the odyssey that we had just lived. It was time to recover strength, improve our spirits and start planning our next destination.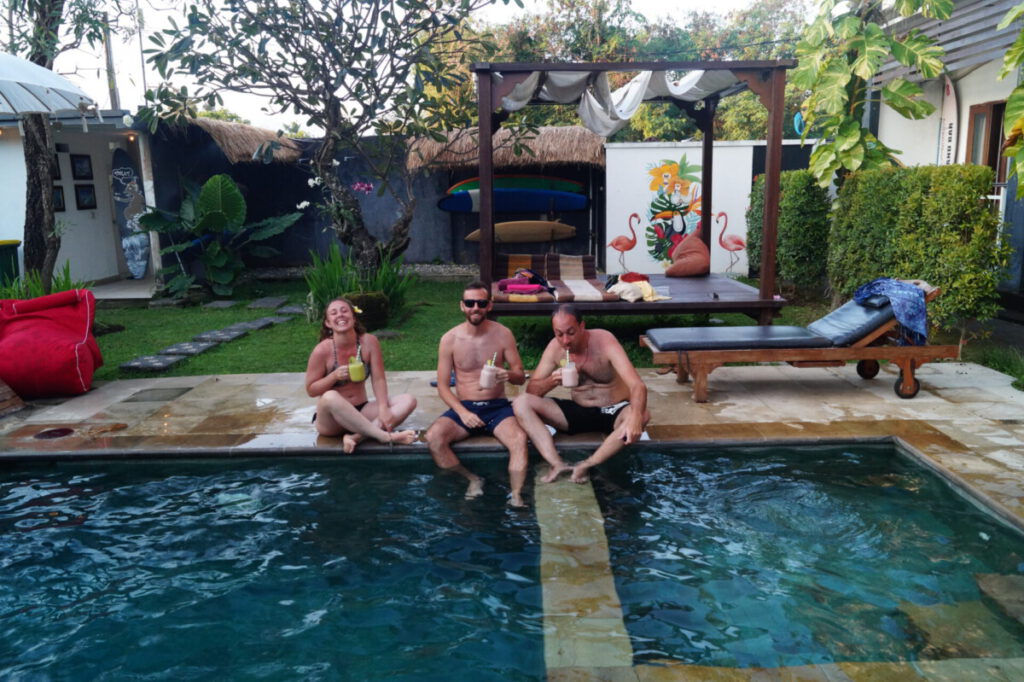 Some facts about the Lombok earthquake:
The Lombok earthquake occurred on August 5, 2018 at 19:46 local time, at a depth of 31.0 km.
The shaking was felt as far away as Sumbaya in the east at 270 km and Trenggalek Regency in the west at 730 km.
After the earthquake, BMKG issued a tsunami warning for the north coast of Lombok. With a maximum expected height of only 50 cm, the tsunami hit three locations, the maximum of which was 13.5 cm in Carik, North Lombok, and the warning was later removed.
From August 5 to 9, the tremors did not stop and a total of 350 aftershocks were counted from the 6.9 earthquake.
The lack of resources from the Indonesian government and the inexistent help from other countries made it impossible to evict all the people from the Gili Islands in one day. As a result, many people had to stay overnight on high ground for several days until they were able to leave the island.
A total of 1,200 tourists were evacuated from Gili Trawangan, Gili Meno and Gili Air, of which there were about 200 Spaniards. Here I leave you a link where you can hear how several Spaniards lived the earthquake of Lombok.
Continue Reading or get in touch
If you were also in Indonesia when the Lombok earthquake occurred, I invite you to tell us about your experience. If you found this post interesting you can subscribe to the blog to receive updates about trips and destinations.
You can also comment, rate and/or share the post to help us keep growing. And finally, if you are thinking about making a trip to Bali, you can take a look at Ubud, the town with more enchantment of Bali or to the post of Amed and the active volcano Agung.
Sometimes the bad things that happen in our lives put us directly on the path to the best things that will ever happen to us.