Visiting Ubud, the most charming village in Bali
Ubud is known for being one of the most beautiful villages in Bali. Also, one of the most popular for tourists. If you want to know what to see in Ubud in one day because you don't have a lot of time, here I leave you a list of the 5 best places.
Ubud is located in the mountains of Bali and between rice fields. It stands out for its beautiful temples, the abundant nature that surrounds it and for being the center of art and culture of Bali and Indonesia.
Although there are only about 75,000 inhabitants, it is estimated that about 3 million foreign tourists go to enjoy Ubud every year. If you are one of those who likes nature and culture; you can't miss Ubud for anything in the world during your trip to Bali. There are many things to see in Ubud, but these 5 places are a must: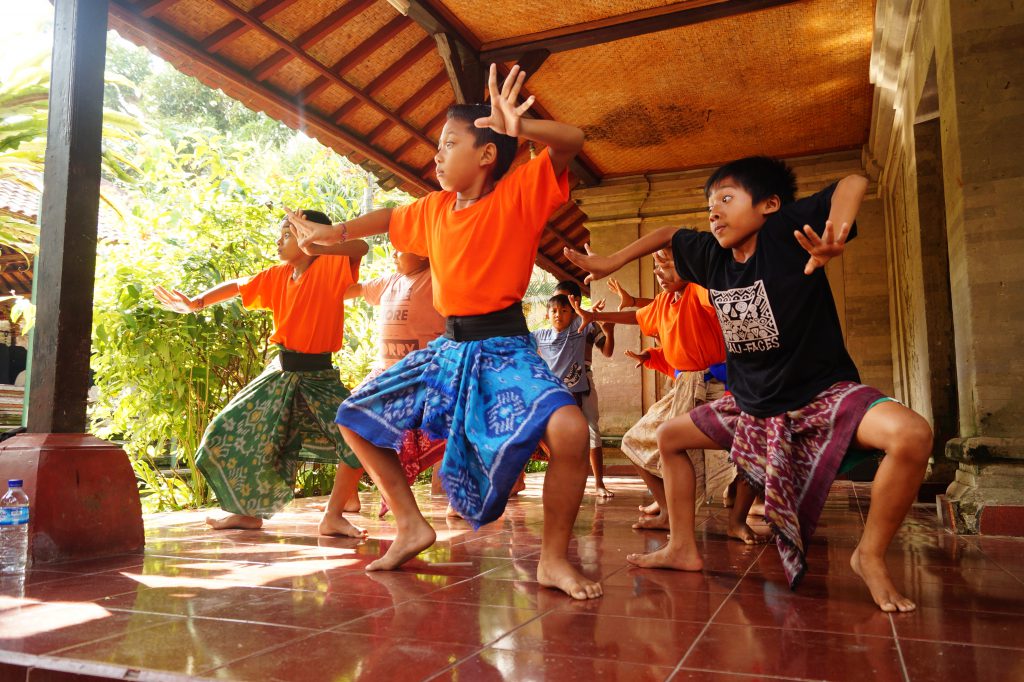 What to see in Ubud in one day?
1. The Taman Saraswati Temple
The Taman Saraswati Temple is also known for the Water Palace of Ubud, because right in front it has two large pools full of lotus flowers and colorful fish that are separated by a walkway. It was built during 1951 and 1952. It is dedicated to the goddess Saraswati; one of the three main goddesses of Hinduism who is known as the goddess of knowledge and the performing arts.
The Taman Saraswati Temple is in the center of the village, next to the Ubud market. Entrance is free and, as it is usually crowded with tourists. Therefore, it is advisable to go early in the morning or at lunchtime. Next to this temple we also have the Royal Palace, although only the central courtyard can be visited.
2. The Market of Ubud
Although I'm more in favor of buying everything you need just before you finish your trip, it always has its charm to walk around these typical Asian markets. Here you can really breathe the essence of the place. In the market of Ubud, you will find all types of typical souvenirs of Bali and also an area specialized in objects of local crafts that is quite interesting.
The market of Ubud is a good place to take a walk, to prove some local delight and to buy something if you believe that you will not find it in any other place of Indonesia. By the way, don't forget to bargain!
3. Monkey Forest
The Monkey Forest is 1.3 km from Ubud. It is a natural reserve of more than 27 hectares covered by dense vegetation, more than 100 different species of trees and many, many, monkeys.
To enter the park you have to pay 50,000 IDR (3 euros). Is open from 8:30 am to 6 pm. The species that inhabit the forest are the long-tailed macaques. They are very used to tourists so they come much closer to you than usual. It is common that even if you have a backpack they jump on you and try to open it in search of food. It is advisable not to carry any bag in your hand, as they will surely pull it out of you. Besides, avoid staring them in the eyes and be careful with your sunglasses, cell phone and camera.
What do you do if a monkey gets on you?
If a monkey gets on top of you, as one park employee told me, it's best to stay calm. Walk fast and get away from where you are. If you do that, the monkey will usually jump out and come back with its own.
You better not go to this park If you don't like monkeys or are afraid of them. I don't like them because they're unreliable; they can be very nice or suddenly attack you. (I remember one time on a beach when four monkeys jumped on a friend and he had to run into the water to avoid being attacked).
Although I'm not a big fan of monkeys, I went to see the Monkey Park out of curiosity. But then, ended up having some regrets. Going there alone and every now and then running into groups of 4-5 monkeys, I was quite tense throughout my walk in the park. They look at you, if you look back they show you their teeth, they approach and you don't know exactly what to do,…
During my stay in the park, I saw a couple of times how some monkeys would climb on top of someone to try to open their backpacks. After 40 minutes of walking and taking a few pictures I told myself that I had seen enough and that I had tempted my luck too much.
4. Gunung Kawi Temple (my favorite)
Gunung Kawi Temple was for me, by far, the best thing I saw in Ubud and the best temple I saw in the whole island of Bali. It is a temple dedicated to the God of water. The temple is located 13km from Ubud and between rice fields and abundant vegetation. But, what really impresses of this temple, is that it has 4 tombs of members of the royal family that are excavated in the same rock of the mountain and that measure 8 meters high.
When you enter the temple you go down some steep stairs until you reach the river. Just in front, you will find a big vertical wall and those huge tombs inside the same wall. It is a strange sensation, since the whole complex seems to be in an excavated place; as if they wanted to hide among nature.
Apart from the 4 tombs there is a curious complex of different ruins and temples that are worth visiting for a while. Many ruins are half hidden by the vegetation which gives the place an even more mournful and authentic touch. The temple is open from 8:00 to 18:00 and the entrance fee is less than one euro.
By the way, in all Indonesian temples it is mandatory to wear a Sarong which is like a towel covering your legs. I advise you to buy only one when you arrive in Indonesia, so you don't have to pay every two or three times to get one every time you enter a temple.
5. The Tegalalang Rice Terraces
Another of the most famous places in Ubud and definitely more frequented by tourists are the Tegalalang rice terraces, located 7 km from the center of Ubud. Surely you have seen in Instagram images of very high swings swinging between rice fields, as most of these photographs and these videos are made in these paddies.
If you go early in the morning, you can enjoy the place with peace of mind and get lost among the multitude of paths that are among the rice fields. On the contrary, if you go at rush hour you might not like to have to waste a good time trying to take a picture where there is nobody.
I was also bothered by the fact that walking through the rice terraces there are areas where a local won't let you pass from one rice field to another unless you pay them a couple of euros. For that reason, I recommend you to take the motorbike, get away from the tourist area and try to find a paddy for yourself.
If you're looking for a less touristy rice terraces you can take the Campuhan Rige Walk; a perfectly marked 4 km (about 2 hours) walk through paddy fields and nature.
Where to stay in Ubud and how many days to stay?
With one day in Ubud you have enough to see everything. Although, if you go well of time you can stay two or even three days to see each place with more calm. To sleep in Ubud, you can take a look at In Da Garden; where you can sleep for 20 euros in a double room right in the center of Ubud. Sagitarius Inn is another good option located in the center of Ubud; where for 20 euros you can enjoy a nice swimming pool and sleep in a double room.
If you don't feel like spending the night there, you can do like I did and ride your bike from the south coast of Bali to Ubud even though you have an hour's ride there and back.
If these 5 places were not enough and you still have time to see more things, you can also visit: Ubud Palace, Angung Rai Art Museum, Elephant Cave (Goa Gajah) and Dalem Pure Temple. I hope your stay in Ubud will be as pleasant as mine was and that you find useful this post about What to see in Ubud in one day.
I remind you that you can subscribe to the blog if you want to receive travel updates. You can also comment, rate and/or share the post to help us keep growing.
And finally, if you are thinking about making a trip to Bali, you may also be interested in the post about the south of Bali: The Uluwatu Temple and the best beaches around and the post about 3 possible routes to travel around Southeast Asia.
Big dreams turn into big things

Meek Mill